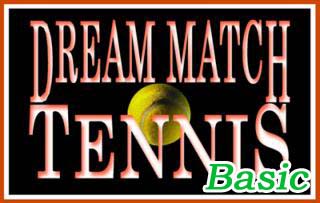 There are 3 Dream Match Tennis editions (Basic/Online/Pro)

Dream Match Tennis is the most realistic 3D tennis game.
You can play REAL tennis at your home computer.
Control the ball and win the match!

Update instruction
Please download the new version and install again.
It is not necessary to uninstall the previous version.
Updates are free.

Game Features

- 4 game modes -
Challenge, Exhibition, Tutorial and Practice.

- 7 court surfaces -
Hard(3), Grass, Clay and Carpet(2) court.

- 4 characters -
Unique 4 characters have different types of play style and abilities.

- Supports keyboard and joypad -
It is strongly recommended to use joypad.

- Supports PLAYER vs. PLAYER and PLAYER vs. COMPUTER -
To play PLAYER vs. PLAYER, there must be at least one joypad.

- 7 computer levels -


©Bimboosoft Co.,Ltd.